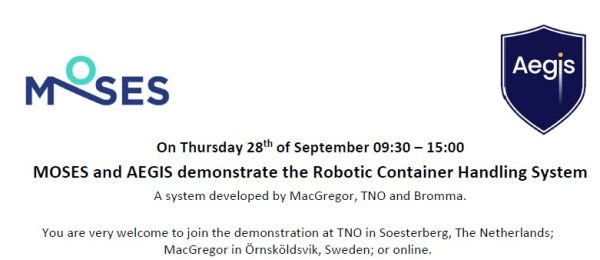 On 28th of September 2023, in Soesterberg, the Netherlands & in Örnsköldsvik, Sweden, MOSES team successfully conducted the MOSES Pilot 3 Demonstration: Robotic Container Handling System. 
As part of the demonstration, MacGregor showcased the ability of the spreader to lock on to a container on the quayside before transferring it to the vessel without an onsite crane operator. To test the system's limitations, MacGregor defined scenarios in which the containers were placed incorrectly. The demonstration, also, verified the system's response, when a person enters the safety zone and its coordination with the shore control centre, coordinated by TNO, to ensure operations can be resumed safely and without delay following automatic shut-down.
The demonstration day was initiated by a number of fruitful and explanatory presentations and it was concluded with the realization of the pilot demonstration.
The demonstration was part of both MOSES project2020 & AEGIS EU Project European sister projects.
The event agenda is available here.
PRESENTATION MATERIAL
PHOTO GALLERY