Nor-Shipping is the destination for ocean opportunity. This is the arena where future ambitions become tangible plans – with all the people, technology, expertise and business concepts in one place to access, learn from and work with.  In 2022 Nor-Shipping ISO 20121 certified event was focused on #ACTION.
Nor-Shipping is where cutting edge Norwegian and international companies showcase the innovations that deliver competitive advantage for their customers – driving new efficiencies, improving processes and enhancing performance. This is the place where the maritime, tech, finance and wider business segments cross paths to learn from one another, forge partnerships, and access new economic value creation.
Nor-Shipping's 21,000 square metre exhibition space is the beating heart of the week's activity. This is where delegates and visitors can experience the products, services and companies that will help drive a new age of ocean industry development.
It is a dynamic festival of talented people and innovative products – designed to help you deliver on your ocean industry ambitions.
Nor-Shipping 2022 took place on 4th -7th of April 2022, in Oslo.
MOSES, along with its sister project AEGIS and the H2020 project AUTOSHIP, was one of the sponsors of the Third International Ship Autonomy and Sustainability Summit on 5 April 2022, that was organised in the context of Nor-Shipping 2022.
Within this summit the high-level participants and expertise address how leading countries and regions deal with both national and international developments for autonomous ships and shipping. This year's main theme was the: Autonomous ships enabling new, smart and sustainable business models. An update on the regulatory status nationally, regionally and internationally was, also, included.
MOSES had the chance to showcase the official project video (available here) and to familiarise the participants into his research and innovative activities.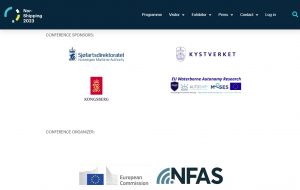 Nor-Shipping 2022 communication kit can be found here.