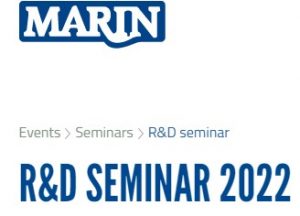 MARIN R&D seminar 2022, took place on Wednesday 02 November 2022, in Wageningen.
During this day MARIN's new research programs on Zero Emission Shipping, Safe Operations & Human Factors, Autonomy & Decision Support and Blue Growth were presented.
Within these programs MARIN works on their mission to make ships cleaner, smarter and safer, and to contribute to a sustainable use of the sea.
MOSES project was presented by Mr. Bas J. de Kruif, who delivered a presentation on "Intelligence for automated manoeuvres; docking of a feeder vessel". His presentation can be found here.
More information about the event and the agenda can be found here.