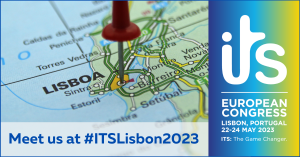 15th ITS European Congress took place betwwen 22-24 of May 2023, in Lisbon, Portugal.
The ITS Community was welcomed to the 15th ITS European Congress in Lisbon. 'ITS: The Game Changer' was the theme of this year's edition and this fitted very suitably considering the transforming mobility landscape: from digitalisation of transport and the nexus between CCAM and green mobility solutions, to the integration of multimodality and urban mobility.
The Congress in the beautiful city of Lisbon did not only offer a unique exhibition with live demonstrations, it was a real Congress with a high-level programme and over 100 Technical Sessions where academia, business and policy-makers presented and discussed new evolutions in transport and mobility.
MOSES project had a two-fold representation:
Presented in the special session "Improved and innovative cargo logistics with small autonomous ships", together with AUTOSHIP, AEGIS and SEAMLESS, on May 23rd, in SIS25, Room 1.5, by Ms. Evangelia Portouli, from NTUA. The session was moderated by the AEGIS coordinator Odd Erik Mørkrid (SINTEF Ocean). Her presentation entitled "Automated cargo handling for autonomous ships: The MOSES project" is available here.
The rest of the presentations, as part of the session, are named below:
• "Small feeder shuttles' impact on the short sea network". Marianne Hagaseth (SINTEF OCEAN)-AEGIS project.
• "Small Vessel Transport: Bringing Ports Closer to the City and Beyond." Alexandros Rammos (NTUA)-SEAMLESS project
• "Comparing External Costs: Trucks vs Autonomous Ships". Anastasia Azarko (SINTEF OCEAN)- AUTOSHIP project.
2. Within ICCS booth, where dissemination material (brochure, video etc) was made available for the audience.
More information about the conference and the session can be found on the ITS Congress webpage here.
Conference program is available here.