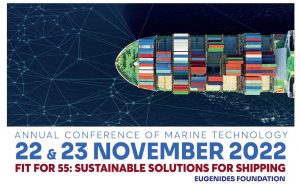 The Annual Meeting of Hellenic Institute of Marine Technology is a conference with associated events, organized every year by the Hellenic Institute of Marine Technology (H.I.M.T.). This year, the Annual Meeting took on the 22nd and 23rd of November 2022 at the Eugenides Foundation.
The H.I.M.T. boasted of the high scientific merit of its Annual Conference, which became a focal event in Greece for discussing technological advances relevant to the Greek and international shipping, ranging from innovation to practical application. Based on previous experience, this year's event was strongly supported by the maritime community, gathering experts and stakeholders from business, academia and the public sector.
The thematic topics of the 2022 Conference were specified as follows:
Design and operation of ships and offshore structures.
Autonomous ships and smart applications in the maritime industry: challenges and opportunities.
Recent and forthcoming guidelines of international organizations to reduce the emissions of the
Green House Gases (GHG) and applications.
Management, assessment and optimization of the operation of the ship, its subsystems and the port facilities.
Technologies and materials for enhancing maritime safety.
Novel technologies for the construction, conversion and survey of ships.
Innovative ship propulsion systems.
Improving ship energy efficiency.
New resources to supply energy to ships, including hybrid systems.
Methods for the remote inspection of ships
Scheduling of fleet maintenance and repair.
Examples of good practice for sustainable shipping.
Digitalization, digital data transfer, cybersecurity in shipping: challenges and opportunities.
Ship recycling: challenges and prospects.
Protection of the marine environment.
MOSES project was represented by its coordinator, Prof. Nikolaos Ventikos from NTUA, who submitted along with MARIN & DNV Hellas colleagues, a paper entitled "Preliminary Hazard Analysis for an Innovative Container Feeder Concept".
Paper is available here.
Prof. Nikolaos Ventikos delivered, also, the homonymous presentation of the aforementioned paper on Wednesday 23rd of November 2022, during session 6.
The presentation can be found here.
The event program can be found here.