Åland Maritime Day has been organized since 2001 and includes an exhibition for ship owners, suppliers, maritime schools and other maritime organizations, seminars covering industry and political topics.
Trelleborg Marine and Infrastructure was presented at Maritime Day in Åland. Trelleborg's Mike Howie, Regional Sales Manager for Docking & Mooring products in Europe, discussed AutoMoor as a key component of the MOSES Project, with a conference delegate at Aland Maritime Day, Mariehamn, Finland on May 10th, 2022.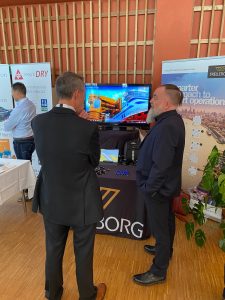 Trelleborg is developing a small-scale version of AutoMoor specifically for the MOSES Project as part of the consortium's research into autonomous approach, docking and mooring systems capabilities and they look forward to trialling the unit later this year.