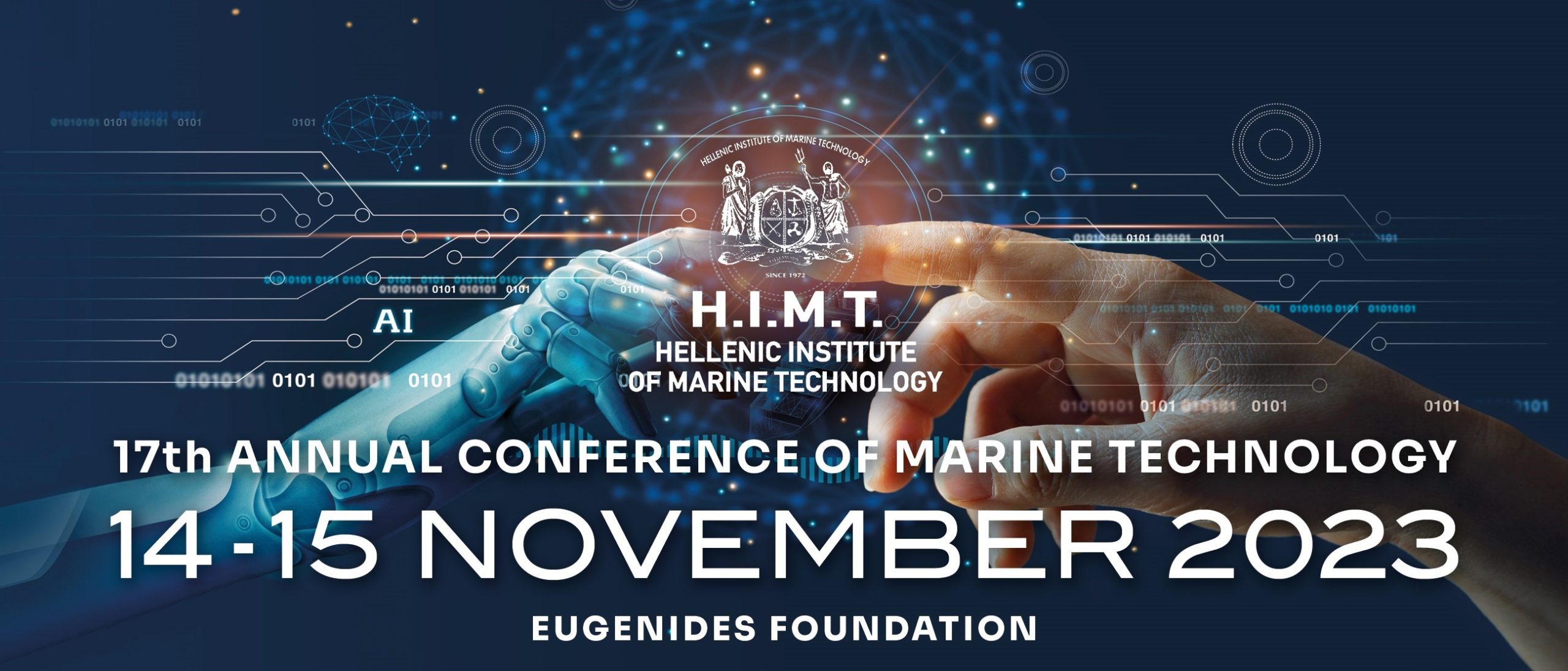 The Annual Conference of Marine Technology is a conference with associated events, organized every year by the Hellenic Institute of Marine Technology (H.I.M.T.).
This year, the Annual Conference TOOK place on the 14th and 15th of November 2023 at the Eugenides Foundation.
The H.I.M.T. Annual Conference was accommodated by the following activities:
Industry section on 14th of November 2023.
Scientific papers section on 15th of November 2023.
A Technology Exhibition on 14th & 15th of November 2023.
I.M.T.'s Annual Dinner and the H.I.M.T. Annual Prize award on 15th of November 2023.
The thematic topics of the 2023 Conference have been specified as follows:
Design and operation of ships and offshore structures.
Autonomous ships and smart applications in the maritime industry: challenges and opportunities.
Recent and forthcoming guidelines of international organizations to reduce the emissions of the
Green House Gases (GHG) and applications.
Management, assessment and optimization of the operation of the ship, its subsystems and the port facilities.
Technologies and materials for enhancing maritime safety.
Novel technologies for the construction, conversion and survey of ships.
Innovative ship propulsion systems.
Improving ship energy efficiency.
New resources to supply energy to ships, including hybrid systems.
Methods for the remote inspection of ships
Scheduling of fleet maintenance and repair.
Examples of good practice for sustainable shipping.
Digitalization, digital data transfer, digital twin.
Cybersecurity in shipping: challenges and opportunities.
Ship recycling: challenges and prospects.
Protection of the marine environment.
Sustainable solutions in shipping.
The event program is available here.
MOSES project, represented by its coordinator, on Wednesday, 15th of November 2023, during session 1 (09.00-11.00 local time).
Marios Koimtzoglou, member of the coordinating team presented the homonymous paper, entitled "MOSES shore tugboat control station: development of a shore-side system to support autonomous tugboat operation".
His presentation is available here.
The paper is available here and its details below:
MOSES shore tugboat control station: development of a shore-side system to support autonomous tugboat operation
Authors: 1N.P. Ventikos, 1N. Themelis, 1K. Louzis, 1M. Koimtzoglou, 2M. de Juan, 2V. Perales
1School of Naval Architecture & Marine Engineering, National Technical University of Athens, 2Fundación Valencia port