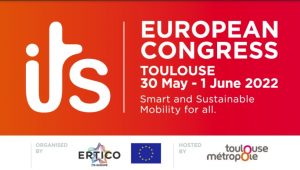 The ITS European Congress is part of a bigger cluster of ITS Congresses. It is organised in a European city in the years where there is no ITS World Congress in Europe. The ITS World Congress rotates between Europe, the Asia Pacific region and the Americas. For all European Congresses, ERTICO and its Partners work closely with the European Commission and the host city to deliver an outstanding event built around three pillars:
● International Programme sessions and presentations with top speakers from the industry
● Demonstrations of the current transport technologies developed and deployed throughout the world
● Exhibition of cutting-edge companies.
These events are a strategic opportunity for the transport industry to come together and show the latest
innovations, with a slightly different focus for each year. The Congresses display the host city's latest
achievements in the field of intelligent mobility services, supporting the hosts in increasing the awareness of the importance of new solutions and investments in the host region and country.
The Congress provided over 100 sessions and workshops where attendees were able to attend a variety of discussions by high-level officials, as well as hear industry and academic leaders speak, a multitude of
opportunities to experience outstanding demonstrations with cutting edge solutions, an exciting list of technical visits and tours, over 65 individual exhibiting companies showcasing the latest and most exceptional solutions and innovations in ITS, a start-up area with over 20 creative innovators, as well as a great networking and social programme.
At the ITS European Congress 2022, attendees were able to join the discussion on policy and research
and share best practices around the Congress's main theme "Smart and Sustainable Mobility for all".
Within this theme, the Congress addressed five key topics:
Services for citizens
Next generation solutions
Green and sustainable mobility
From large-scale trials to deployment
Cities as Logistics hubs
MOSES was represented by Mr. Giannis Kanellopoulos from NTUA, during the SIS 50 (Room 9) 'Data Sharing & Digital Transformation in Logistics' on the 31st of May (second day of the event).
His presentation can be found here.
The full event program can be found here.